OUR ROUTE
DOWNTOWN LA CROSSE
401 N 3rd St, La Crosse, WI 54601
Main Route
Each tour will begin and end at our depot, the former La Crosse Tribune Building, located at: 401 North 3rd Street La Crosse, WI 54601
We will be riding around beautiful Riverside Park then making 2 stops in historical downtown La Crosse.
Tours are 2 hours long and we'll pick two spots to stop at throughout our route. If you'd like to stop somewhere specific, let your driver know before your tour starts. You will have ample time to order drinks on our pub crawl, in addition to Trolley Pub being BYOB so you can drink in between stops. If you're from out of town, our drivers are well-versed in the La Crosse bar scene and will be happy to make suggestions.
We'll highlight a few of our favorite stops below…with exclusive deals from our Pint Partners!
Trolley Pub pedalers get $1 off tap beers and mixers with our souvenir Pint glasses at these fine establishments!
Great choice of wine, craft beer and appetizers.
Sizable bar offering many Irish beers, specialty entrees & pub grub, plus patio seating & TVs.
The oldest bar in downtown La Crosse, Wisconsin.
Famous for their bloody marys.
What is the Trolley Pub?
It's a pedal-powered portable bar on wheels, with a certified Trolley Pub conductor in the captain's seat. Perfect for pub crawls, birthday celebrations, bachelor/bachelorette parties, company outings, brewery tours, sightseeing, themed nights out- the possibilities are endless! A minimum of 6 pedalers is necessary to power the Trolley Pub.
Where does the Trolley Pub stop and for how long?
Visit the Routes page for details. Just let your driver know where you would like to stop at the start of the tour. Most groups make 2 stops and stay 15-20 minutes at each stop. These stops will vary based on the group on board, rider requests, and the driver's discretion.
Isn't it hard to pedal?
It's not too bad! We have had groups of all 70+ seniors pedal just fine. If they can do it, you can do it!!!
What if it rains?
Trolley Pub operates rain or shine! If its going to rain, we recommend bringing rain jackets and/or ponchos. It's still a lot of fun- think of it as an adventure. We only cancel tours if there are unsafe conditions.
Where do we board the Trolley Pub?
For La Crosse we pick you up
here:
Can we drink on board?
Yes, but you have to follow the rules. Canned beverages only, up to 3-12oz cans per person (36oz total) This includes wine coolers and hard ciders. no glass!!! We will have a cooler with ice for you to use. Please be advised, if you get overly intoxicated during the tour and become a nuisance, you will be asked to get off and the ticket is non-refundable.
How many people can fit on the Trolley Pub?
It varies by location, but La Crosse trolley can fit up to 16 riders
How do I reschedule/cancel my tour?
It's easy! Simply respond to your confirmation email with the date change request. Please ensure that you are within the reschedule/cancellation terms outlined in our refund policy.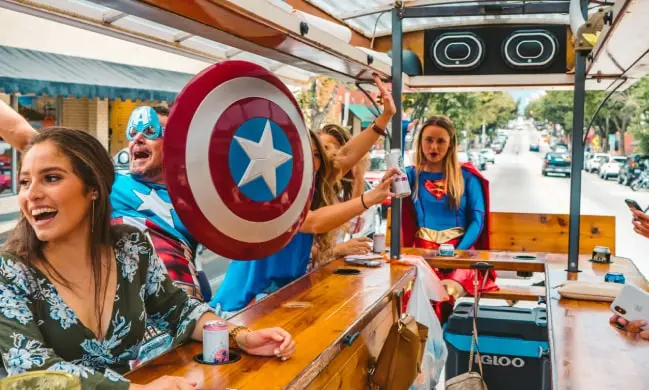 Franchise your own Trolley Pub business
Start your own Trolley Pub
Start your own Trolley Pub business with TourScale, exclusive franchisor of Trolley Pub and Paddle Pub. Trolley Pub franchisees are equipped with the technology and training they need to run their business, with access to the best Trolleys in the industry through partnership with Trident Pedal.
Instagram Feed
This error message is only visible to WordPress admins
Error: No feed with the ID 1 found.
Please go to the Instagram Feed settings page to create a feed.