Trolley Pub operates party bike pub crawl tours nationwide, please choose your location below to see route, tour, pricing information, pick-up spots, and FAQs.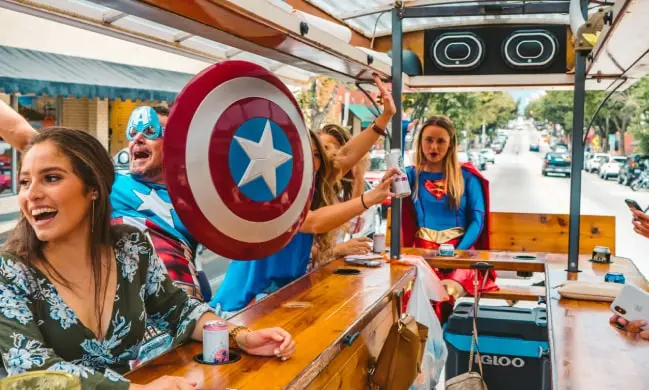 Franchise your own Trolley Pub business
Start your own Trolley Pub
Start your own Trolley Pub business with TourScale, exclusive franchisor of Trolley Pub and Paddle Pub. Trolley Pub franchisees are equipped with the technology and training they need to run their business, with access to the best Trolleys in the industry through partnership with
Trident Pedal.
What is the Trolley Pub?
It's a pedal-powered portable bar on wheels, with a certified Trolley Pub conductor in the captain's seat. Perfect for pub crawls, birthday celebrations, bachelor/bachelorette parties, company outings, brewery tours, sightseeing, themed nights out- the possibilities are endless! A minimum of 6 pedalers is necessary to power the Trolley Pub.
Where does the Trolley Pub stop and for how long?
Visit the Routes page for details. Just let your driver know where you would like to stop at the start of the tour. Most groups make 2 stops and stay 15-20 minutes at each stop. These stops will vary based on the group on board, rider requests, and the driver's discretion.
Isn't it hard to pedal?
It's not too bad! We have had groups of all 70+ seniors pedal just fine. If they can do it, you can do it!!!
What if it rains?
Trolley Pub operates rain or shine! If its going to rain, we recommend bringing rain jackets and/or ponchos. It's still a lot of fun- think of it as an adventure. We only cancel tours if there are unsafe conditions.
Where do we board the Trolley Pub?
Please select your location to see more information by clicking
here
Can we drink on board?
Most locations allow for drinking wine and beer onboard. For information on your specific city, check the FAQ at your location by clicking
here
How many people can fit on the Trolley Pub?
It varies by location, but most Trolleys hold 14-16 riders. For more information, select your location
here
How do I reschedule/cancel my tour?
Visit your location page by clicking
here.
Instagram Feed
This error message is only visible to WordPress admins
Error: No feed with the ID 2 found.
Please go to the Instagram Feed settings page to create a feed.