OUR ROUTE
DOWNTOWN Knoxville
808 State Street Knoxville, TN 37902
Trolley Pub operates tours in downtown Knoxville, and riders can choose 2-3 stops during their tour at breweries, pubs, and restaurants.  Experience the city in the open air and it has room to fit all your friends, family and colleagues!
Rent out the whole Trolley Pub or join a mixer tour if you have a smaller group. All tours are two hours long. 
A self-serve taproom with 68 always-rotating digital taps where you sample any beverage by the ounce, and there, only pay by the ounce. It's simple and allows you to enjoy your time not waiting on drinks! A perfect Trolley Pub stop! 
Barley's Taproom and Pizzeria
A hidden gem, Located in Knoxville's Historic Old City, Barley's offers great food, live music and one of the best draft beer selection in Knoxville! 
This scratch kitchen brewpub is an amazing stop! Great food, great beer, great service! They create a welcoming environment that celebrates craft beers and made from scratch food! 
What is the Trolley Pub?
It's a pedal-powered portable bar on wheels, with a certified Trolley Pub conductor in the captain's seat. Perfect for pub crawls, birthday celebrations, bachelor/bachelorette parties, company outings, brewery tours, sightseeing, themed nights out- the possibilities are endless! A minimum of 6 pedalers is necessary to power the Trolley Pub.
Where does the Trolley Pub stop and for how long?
Visit the Routes page for details. Just let your driver know where you would like to stop at the start of the tour. Most groups make 2 stops and stay 15-20 minutes at each stop. These stops will vary based on the group on board, rider requests, and the driver's discretion.
Isn't it hard to pedal?
It's not too bad! We have had groups of all 70+ seniors pedal just fine. If they can do it, you can do it!!!
What if it rains?
Trolley Pub operates rain or shine! If its going to rain, we recommend bringing rain jackets and/or ponchos. It's still a lot of fun- think of it as an adventure. We only cancel tours if there are unsafe conditions.
Where do we board the Trolley Pub?
Pickup Address:
808 State Street Knoxville, TN 37902
We have 6 designated parking spots for Trolley Pub Customer parking.
Can we drink on board?
No visible alcohol packaging is allowed. We do however make plenty of bar stops! Don't miss this experience and book today before somebody takes your spot.
How many people can fit on the Trolley Pub?
It varies by location, but Knoxville trolley can fit up to 14 riders
How do I reschedule/cancel my tour?
It's easy! Simply respond to your confirmation email with the date change request. Please ensure that you are within the reschedule/cancellation terms outlined in our refund policy.
Trolley Pub now offers trip insurance, which will allow you to cancel your upcoming tour for any reason up to 24 hours before the tour for a full refund. Trip insurance will also allow you to receive a full refund in the event of a Severe Weather Warning from the National Weather Service during the time of your scheduled tour.
To purchase trip insurance, simply select the add on "Trip Insurance" during checkout. Please note that for mixer tours, you will need to select the number of tickets you would like to insure to cover all the tickets.
Without trip insurance, there are no refunds given for any reason. However you may receive a credit to reschedule your tour for a future date in the event of a cancellation due to a Severe Weather Warning from the National Weather Service. Further, you may reschedule your future tour under some circumstances if you give us a call at least a week before your scheduled tour.
Is there a minimum age to ride the Trolley Pub?
Yes.  The minimum age on a private tour is 15.  The minimum age on a public mixer tour is 21.
Is there a weight limit to ride the Trolley Pub?
The weight limit for any individual rider is 275 pounds.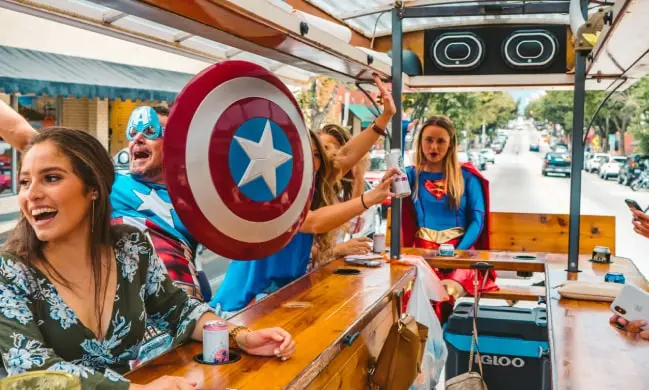 Franchise your own Trolley Pub business
Start your own Trolley Pub
Start your own Trolley Pub business with TourScale, exclusive franchisor of Trolley Pub and Paddle Pub. Trolley Pub franchisees are equipped with the technology and training they need to run their business, with access to the best Trolleys in the industry through partnership with Trident Pedal.
Instagram Feed
This error message is only visible to WordPress admins
Error: No feed with the ID 1 found.
Please go to the Instagram Feed settings page to create a feed.