OUR ROUTE
DOWNTOWN CLERMONT
644 West Ave. Clermont, FL 34711
Enjoy Trolley Pub's lakefront tour stopping at some of the best bars and breweries Lake Minneola & Clermont, FL has to offer.
Come and enjoy a unique Mexican experience in a friendly and fun atmosphere at Pepe's Cantina. Next door to Sun Creek Brewery, Clermont's first craft brewery. Located in the historic downtown development district, this first stop is the perfect place to enjoy a drink.
Innovative craft cocktails are prepared by master bartenders & craft cocktail specialists. There's nothing like it in Clermont!
Clermont Brewing Company is your place for craft beer, artisanal food, and live music. It features a covered patio and a beautiful backyard beer garden.
What is the Trolley Pub?
It's a pedal-powered portable bar on wheels, with a certified Trolley Pub conductor in the captain's seat. Perfect for pub crawls, birthday celebrations, bachelor/bachelorette parties, company outings, brewery tours, sightseeing, themed nights out- the possibilities are endless! A minimum of 6 pedalers is necessary to power the Trolley Pub.
Where does the Trolley Pub stop and for how long?
Visit the Routes page for details. Just let your driver know where you would like to stop at the start of the tour. Most groups make 2 stops and stay 15-20 minutes at each stop. These stops will vary based on the group on board, rider requests, and the driver's discretion.
Isn't it hard to pedal?
It's not too bad! We have had groups of all 70+ seniors pedal just fine. If they can do it, you can do it!!!
What if it rains?
Trolley Pub operates rain or shine! If its going to rain, we recommend bringing rain jackets and/or ponchos. It's still a lot of fun- think of it as an adventure. We only cancel tours if there are unsafe conditions.
Where do we board the Trolley Pub?
For Clermont we pick you up
here:
Can we drink on board?
You may, but you have to follow the rules. No hard alcohol or glass. All alcohol is BYOB. Alcoholic beverages must remain on board at all times. Bring your own ice chest or use ours. You are also free to bring food on board. Use common sense, you can't drink on the street. Do not get overly intoxicated or you will be kicked off. Do not show up to a Trolley Pub tour intoxicated or you will not be let on board.
How many people can fit on the Trolley Pub?
It varies by location, but Clermont trolley can fit up to 14 riders
How do I reschedule/cancel my tour?
It's easy! Simply respond to your confirmation email with the date change request. Please ensure that you are within the reschedule/cancellation terms outlined in our refund policy.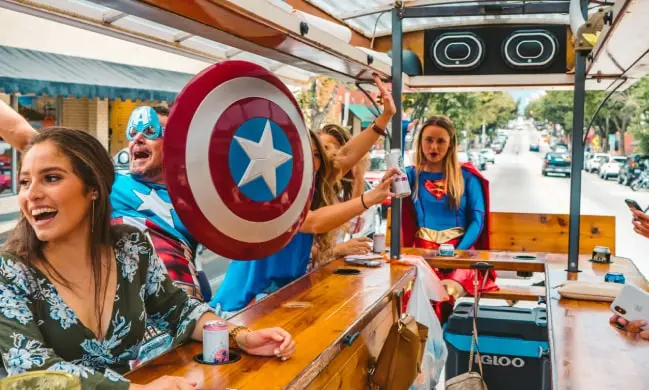 Franchise your own Trolley Pub business
Start your own Trolley Pub
Start your own Trolley Pub business with TourScale, exclusive franchisor of Trolley Pub and Paddle Pub. Trolley Pub franchisees are equipped with the technology and training they need to run their business, with access to the best Trolleys in the industry through partnership with Trident Pedal.